A sustainable RF certification services company
A sustainable RF certification services company
A sustainable RF certification services company
NRCS announce acceptance of SANS/IEC 62368-1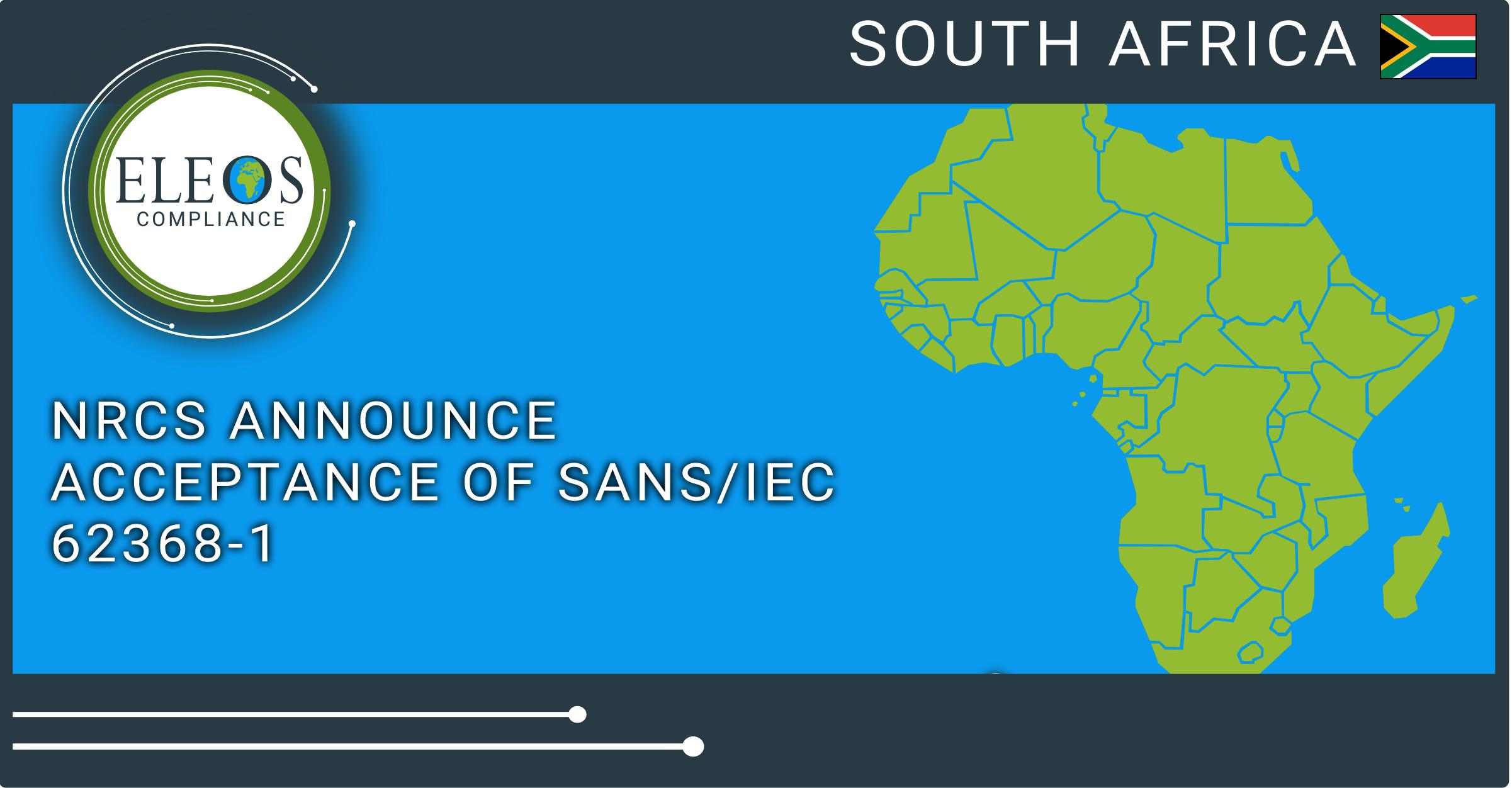 NRCS announce acceptance of SANS/IEC 62368-1
The National Regulatory for Compulsory Specifications (NRCS) in South Africa have announced that national compulsory specification VC 8055 will recognise SANS/IEC 62368-1 as an equivalent standard to SANS/IEC 60065 and SANS/IEC 60950. Previously, SANS/IEC 62368-1 had not been accepted and a declaration of equivalence to SANS/IEC 60065 and SANS/IEC 60950 was required to support all applications using test reports to SANS/IEC 62368-1.
The acceptance of SANS/IEC 62368-1 is effective from 01 April 2021, meaning that the test report can now be used to support all safety type approval applications in South Africa.
By way of reminder, VC 8055 is the national compulsory specification which covers the safety of electrical and electronic products, includes the safety of Audio/Video (AV) products covered by SANS/IEC60065 and Information Technology (ICT) Equipment covered by SANS/IEC60950.
Eleos Compliance offer international RF, EMC, Safety and Green type approval services for radiocommunications products.
Eleos Compliance are a sustainable, values-based business combining extensive experience in the wireless homologation sector with outstanding project management.
For full support with your global market access requirements or regulatory intelligence needs please contact us at enquiries@eleoscompliance.com
Subscribe to our Updates!