A sustainable RF certification services company
A sustainable RF certification services company
A sustainable RF certification services company
SII certificates to SI60950/SI60065 to be updated to SI62368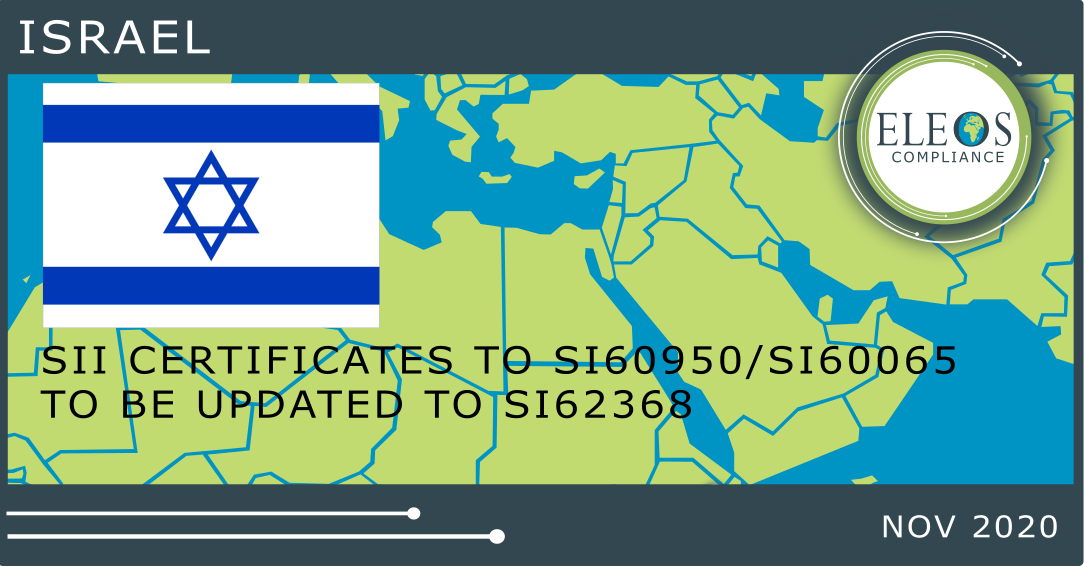 The Standards Institute of Israel (SII) confirms that SII certificates to SI60950/SI60065 should be updated to SI62368
The Standards Institute of Israel (SII) has recently confirmed that SII approval certificates previously obtained to SI60950 and SI60065 standards will have to be updated to the new SI62368 safety standard. Local testing will not be required and SII confirmed that new certificates can be issued based on a paperwork only application. It has also been confirmed that, for the time being, import of products certified to SI60950 will still be permitted after 20th December 2020, assuming the importer can present a declaration from the manufacturer that the product has not been modified in any way.
Eleos Compliance offer international RF, EMC, Safety and Green type approval services for radiocommunications products.
Eleos Compliance are a sustainable, values-based business combining extensive experience in the wireless homologation sector with outstanding project management.
For full support with your global market access requirements or regulatory intelligence needs please contact us at enquiries@eleoscompliance.com
Subscribe to our Updates!