A sustainable RF certification services company
A sustainable RF certification services company
A sustainable RF certification services company
Brazil - ANATEL Public Consultation No. 27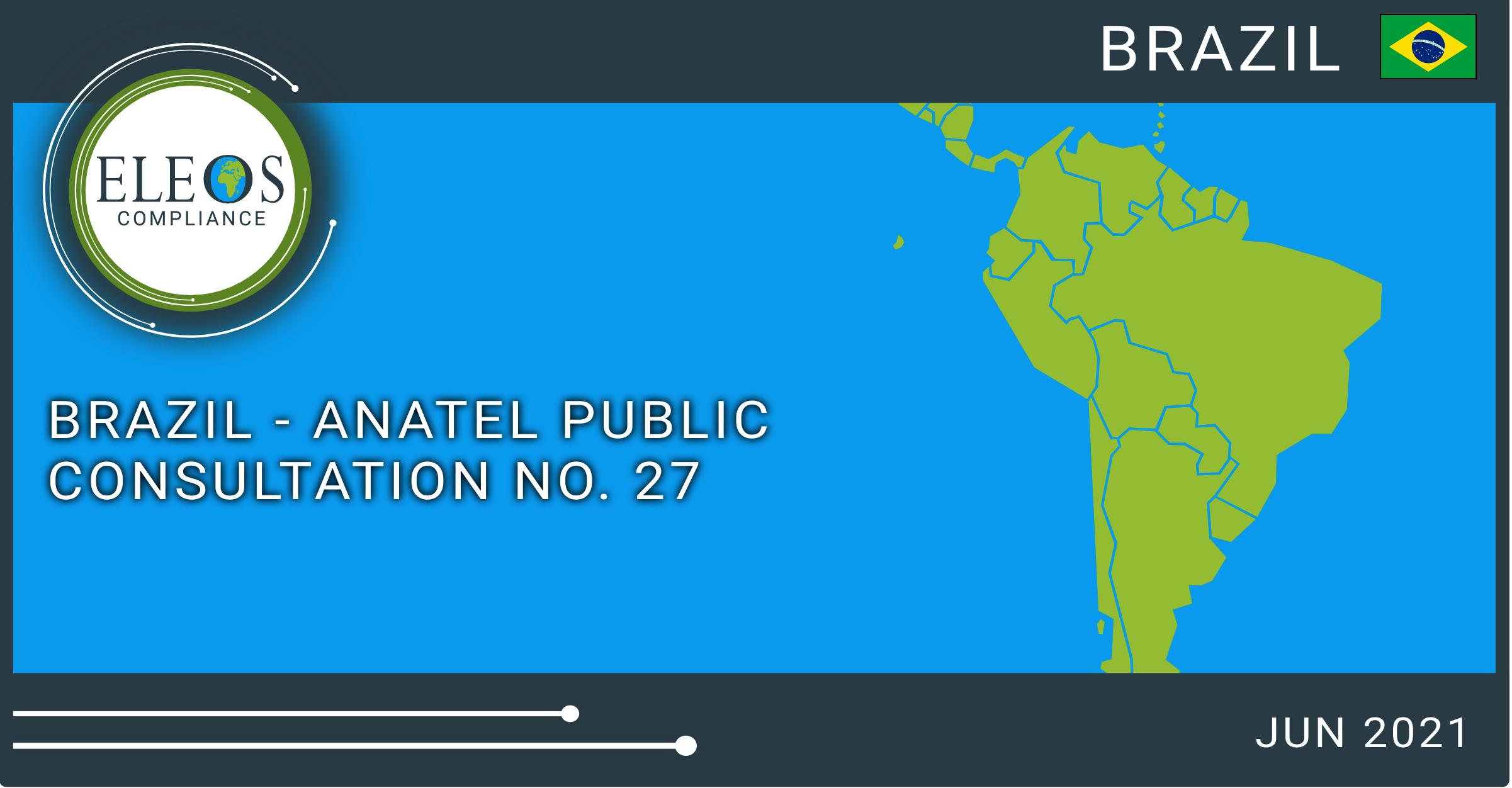 Brazil - ANATEL Public Consultation No. 27
The Brazilian Regulator, ANATEL, has opened Public Consultation No. 27, from 07 June through to 05 August 2021, with the view to update the Testing Procedures for Assessing the Conformity of Restricted Radiation Radiocommunication Equipment, approved by Act No. 6.506.

The proposed changes intend to include the testing procedures for the following:

· Wireless Broadband Access System for Local Area Networks operating in the band 5.925-7.125 MHz;
· Level Detection emitter-sensor in the 76-81 GHz band;
· Vehicle Communication System ( Intelligent Transportation System - ITS) in the 5850-5.925 MHz band;
· System operating in the 57-64 GHz band, together with the Multigigabit System in the 57-71 GHz band;
· Automatic Transmit Power Control System (ATPC) for Point-to-Point, Point-Multipoint or Multipoint-Multipoint Systems, in outdoor environment , for fixed applications, operating in the 57-66 GHz band;
· Media Access Sharing System operating in the bands 5,150-5,350 MHz, 5,470-5,725 MHz and 5,725-5,850 MHz;
· Measurement Distance for Frequencies Less than 30 MHz; and
· Maximum Conducted (Average) Output Power - AVGSA-1.


The public consultation can be found via the link
here
.
If you have any questions, please get in touch.
Eleos Compliance offer international RF, EMC, Safety and Green type approval services for radiocommunications products.
Eleos Compliance are a sustainable, values-based business combining extensive experience in the wireless homologation sector with outstanding project management.
For full support with your global market access requirements or regulatory intelligence needs please contact us at enquiries@eleoscompliance.com
Subscribe to our Updates!