A sustainable RF certification services company
A sustainable RF certification services company
A sustainable RF certification services company
ACMA launch a public consultation into amendments to standard for short range devices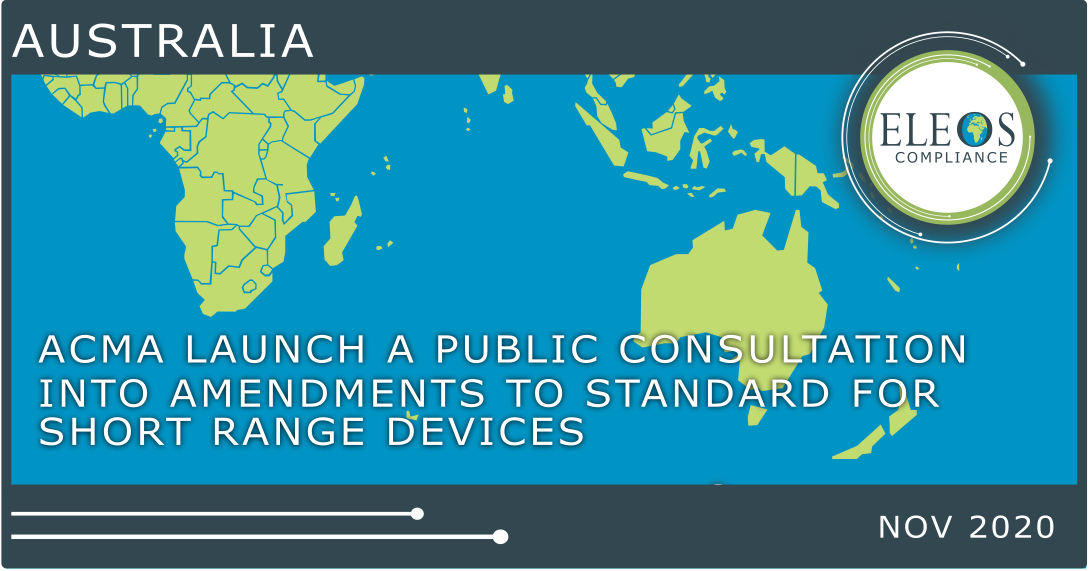 ACMA launch a public consultation into amendments to standard for short range devices
The Australian Communications and Media Authority (ACMA) have launched a public consultation into proposed amendments to the "Radiocommunications (Short Range Devices) Standard 2014 (SRD Standard)".

ACMA is proposing two key changes. The first is to amend the SRD Standard to update the reference to AS/NZS 4268 to the latest edition (AS/NZS 4268:2017).

The second is to directly reference the four generic ETSI standards and the FCC rules listed below, to provide suppliers with the option of using international standards as an alternative to AS/NZS 4268.

The listed standards are as follows:

ETSI EN 300 220-1 – Short Range Devices operating in the frequency range 25 MHz to 1000 MHz; Part 1: Technical characteristics and methods of measurement


ETSI EN 300 330 – Short Range Devices; Radio equipment in the frequency range 9 kHz to 25 MHz and inductive loop systems in the frequency range 9 kHz to 30 MHz; Harmonised Standard covering the essential requirements of article 3.2 of Directive 2014/53/EU

ETSI EN 300 440 – Short Range Devices; Radio equipment to be used in the 1 GHz to 40 GHz frequency range; Harmonised Standard for access to radio spectrum

ETSI EN 305 550-1 – Electromagnetic compatibility and Radio spectrum Matters (ERM); Short Range Devices; Radio equipment to be used in the 40 GHz to 246 GHz frequency range; Part 1: Technical characteristics and test methods

FCC Rules Title 47 (Telecommunications) Part 15-Radio Frequency Devices

AS/NZS 4268 specifies the minimum requirements and test methods of measurement for short-range devices and low-interference potential devices. If there is no standard applicable to the device specified in AS/NZS 4268, it allows compliance to be demonstrated by using the test method specified in one of the above international standards.

A full copy of the public consultation can be found here: https://www.acma.gov.au/consultations/2020-11/amendment-short-range-devices-standard-consultation-312020

The public consultation closes on 18th December 2020 and any interested parties can submit comments to techreg@acma.gov.au.
Eleos Compliance offer international RF, EMC, Safety and Green type approval services for radiocommunications products.
Eleos Compliance are a sustainable, values-based business combining extensive experience in the wireless homologation sector with outstanding project management.
For full support with your global market access requirements or regulatory intelligence needs please contact us at enquiries@eleoscompliance.com
Subscribe to our Updates!